About Us
Phyllodelphia Greek and Mediterranean was created through the inspiration of YiaYia (Grandmother in Greek) recipe for Spanakopita (Spinach and Cheese Filled Phyllo Triangles). This flakey buttery pastry recipe has been passed down for generations.  YiaYia's  Spanakopita is highly regarded within her Greek Community, as one of the best Phyllo dishes.
Originally the business started as a food truck providing catering services and participating in local food truck festivals.
We won Best Food Truck at the PA NJ Border Brawl, taking home the Title from 19 other trucks. 
We also were awarded Best of the Main Line in 2020, and Runner Up in 2019, 2018, 2017.
TODAY WE BRING THE SAME FLAVORS TO YOUR LOCAL FARMERS MARKETS. 
We specialize in traditional Greek and Mediterranean Foods.  We provide Frozen Bake at Home Spanakopita along with Italian Sausage and Cheese Filled Phyllo Triangles, and Spicy Buffalo Chicken Filled Phyllo Triangles.  Also, be on the look out during the year for specials that we have such as Apple Pie Filled Phyllo Triangles.
Hummus is always on the menu at our Farmers Markets with a variety of selection to include Roasted Garlic, Black Olive, made with imported Kalamata Olives and  Sun Dried Tomato.  If you like Garlic you will love our house-made traditional Tzatziki or spice it up with our Tyrokafteri (Spicy Feta Cheese Spread) made with roasted long hot peppers and Calabrese Peppers.
Don't feel like cooking, we have you covered. Try YiaYia's recipe for Pastitsio (Greek Lasagna), layers of Penne Pasta topped with a beef and pork meat sauce and topped with a big thick layer of Béchamel.  Don't forget Dessert.  We typically have a selection of Baklava and Kourabiedes (Greek Shortbread Cookies) at each market.
Contact us at catering@phyllodelphia.com or through our website.
All Major Credit Cards, Apple Pay, and Android Pay Accepted
Awards & Recognition:
Judges Choice Best Overall Food Truck
Winner- PA-NJ Border Brawl
Taste of Success 2016 – Winner
2nd Place Hors D'oeuvre
Sausage and Cheese Filled Phyllo Triangles
More than 120 supporters, friends, and guests joined us at International House Philadelphia on April 18, 2016 for our 14th annual Taste of Success cook-off/bake-off competition. Twelve up-and-coming talented entrepreneurs in the food industry offered tastes of delicious appetizers and desserts, and were judged by some of Philadelphia's finest chefs and restaurateurs (Tim Spinner, Michael Sultan, and Michael Mantia).
Read more….
New family-owned Greek food truck gets OK to hit the road
A family-owned food truck — a co-owner of which had skin in the culinary game at the Jersey Shore for years — have gotten the OK to prepare food and finally hit the road with spanakopita, pastichio and other popular Greek dishes.
Read more….
The National Herald U.S. Addition
Mr. Daglis grew up in the restaurant business. His parents, both from Greece, owned a landmark diner for decades in Wildwood Crest, and Daglis worked there through his early 20s until he eventually found himself working in the investment and financial world, Philadelphia Business Journal reports.
Read more….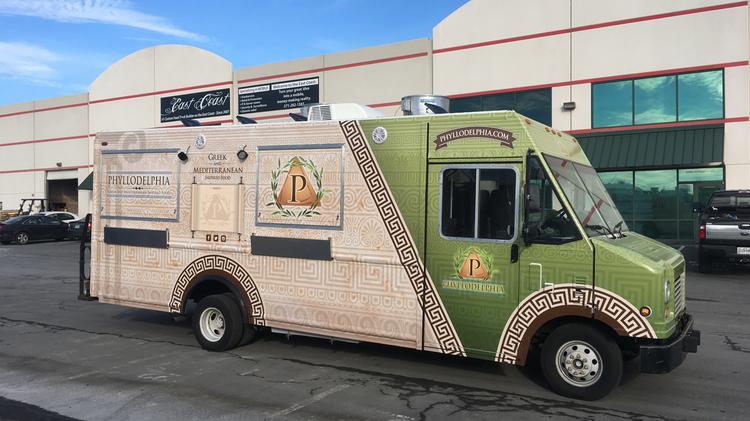 The National Herald Greek Addition
7 Area Food Trucks You Have to Try
This Greek and Mediterranean favorite offers a wide selection of handmade phyllo-filled triangles. Among the delectable selections are buffalo chicken triangles, classic spinach and feta cheese spanakopita and lollipop lamb chops served with homemade tzatziki. Find Phyllodelphia at Chaddsford Winery, local breweries and Philadelphia's Navy Yard Lunch Truck Lineup, among other spots.
Read more….
Women's Business Enterprise National Council
Phyllodelphia LLC is proud to announce that we are certified as a Women's Business Enterprise (WBE) through the Women's Business Enterprise National Council (WBENC), the nation's largest third party certifier of businesses owned and operated by women in the US. We recognize the commitment to supplier diversity that is embraced by corporations and government agencies today, and we can add diversity to your supply chain.