About Us
WINNER OF BEST OVERALL FOOD TRUCK
JUDGES CHOICES, 2017 PA-NJ BORDER BRAWL
Our Food is traditional and made from family recipes and always from scratch. We make our own Tzatziki Sauce (Greek Yogurt, Garlic, & Cucumbers) and all of our Phyllo Filled Triangles are hand folded, in the traditional Greek method. Our Greek Food truck is available for your Corporate Catering Events, Private Parties and Weddings, Food Truck Festivals, Corporate Lunches, Winery Events, and Micro-breweries.
Phyllodelphia can provide full service Catering with or without the Truck. We can also provide Corporate Lunch Boxes and drop-off trays for your next event. Contact us at catering@phyllodelphia.com or the Contact Section of our website to schedule your next event.
Food Truck-Phyllodelphia was awarded Best Overall Food Truck Judges Choice, 2017 at the PA/NJ Border Brawl. We provide the rich flavors of Greek and Mediterranean Food served in a unique casual gourmet method. Our food is individually handcrafted, we use the finest imported Greek Olive Oil and Feta Cheese, all to provide a true authentic Greek Experience. The Phyllodelphia Food Truck can be found at Festivals and Wineries in the Tri-State Area. All Major Credit Cards, Apple Pay, and Android Pay Accepted.
Traditional Catering- Phyllodelphia can provide traditional catering without the Truck.
Drop-Off Catering and Party Trays- Ready to serve party trays at your home or venue on the day of your event. A hazzle free way to have a party or event.
Corporate Lunch Boxes– Ready to serve Lunch Boxes, Salads, and Soups with your favorite Mediterranean and Greek Flavors such as Chorizo, Prosciutto, Salchichon (Spanish Salami). Great for Corporate Meetings. We can also provide Breakfast Options.
Contact us at catering@phyllodelphia.com or through the Contact Us Section of our website to schedule your next event.
Phyllodelphia's Theme surrounds utilizing Phyllo dough, the rich and buttery Greek pastry dough filled with a variety of food items.  We have the traditional Spanakopita (Spinach & Cheese Filled Phyllo Triangles), and other innovate flavors of Sausage & Cheese and Buffalo Chicken.   In addition, we serve traditional Greek and Mediterranean items such as Lamb Meatball Sliders, Souvlaki (Brother to the Gyro), Lollipop Lamb Chops (Award Winning), Greek Salad, Pastitsio (Greek Lasagna), Stuffed Sweet Peppers, Gazpacho, and Baklava. We cater to the growing food truck marketplace in the Tri-State Area, with a concentration of special events and food festivals, micro-breweries and wineries.
Awards & Recognition:
Judges Choice Best Overall Food Truck
Winner- PA-NJ Border Brawl
Taste of Success 2016 – Winner
2nd Place Hors D'oeuvre
Sausage and Cheese Filled Phyllo Triangles
More than 120 supporters, friends, and guests joined us at International House Philadelphia on April 18, 2016 for our 14th annual Taste of Success cook-off/bake-off competition. Twelve up-and-coming talented entrepreneurs in the food industry offered tastes of delicious appetizers and desserts, and were judged by some of Philadelphia's finest chefs and restaurateurs (Tim Spinner, Michael Sultan, and Michael Mantia).
Read more….
New family-owned Greek food truck gets OK to hit the road
A family-owned food truck — a co-owner of which had skin in the culinary game at the Jersey Shore for years — have gotten the OK to prepare food and finally hit the road with spanakopita, pastichio and other popular Greek dishes.
Read more….
The National Herald U.S. Addition
Mr. Daglis grew up in the restaurant business. His parents, both from Greece, owned a landmark diner for decades in Wildwood Crest, and Daglis worked there through his early 20s until he eventually found himself working in the investment and financial world, Philadelphia Business Journal reports.
Read more….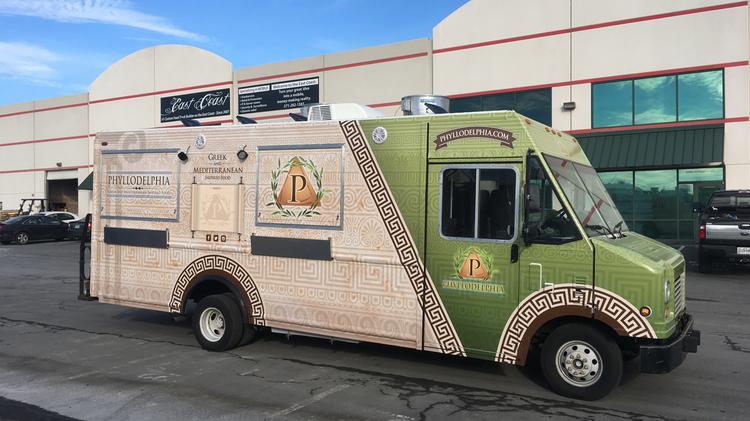 The National Herald Greek Addition
7 Area Food Trucks You Have to Try
This Greek and Mediterranean favorite offers a wide selection of handmade phyllo-filled triangles. Among the delectable selections are buffalo chicken triangles, classic spinach and feta cheese spanakopita and lollipop lamb chops served with homemade tzatziki. Find Phyllodelphia at Chaddsford Winery, local breweries and Philadelphia's Navy Yard Lunch Truck Lineup, among other spots.
Read more….